PKU and non-PKU lasagne in the same dish.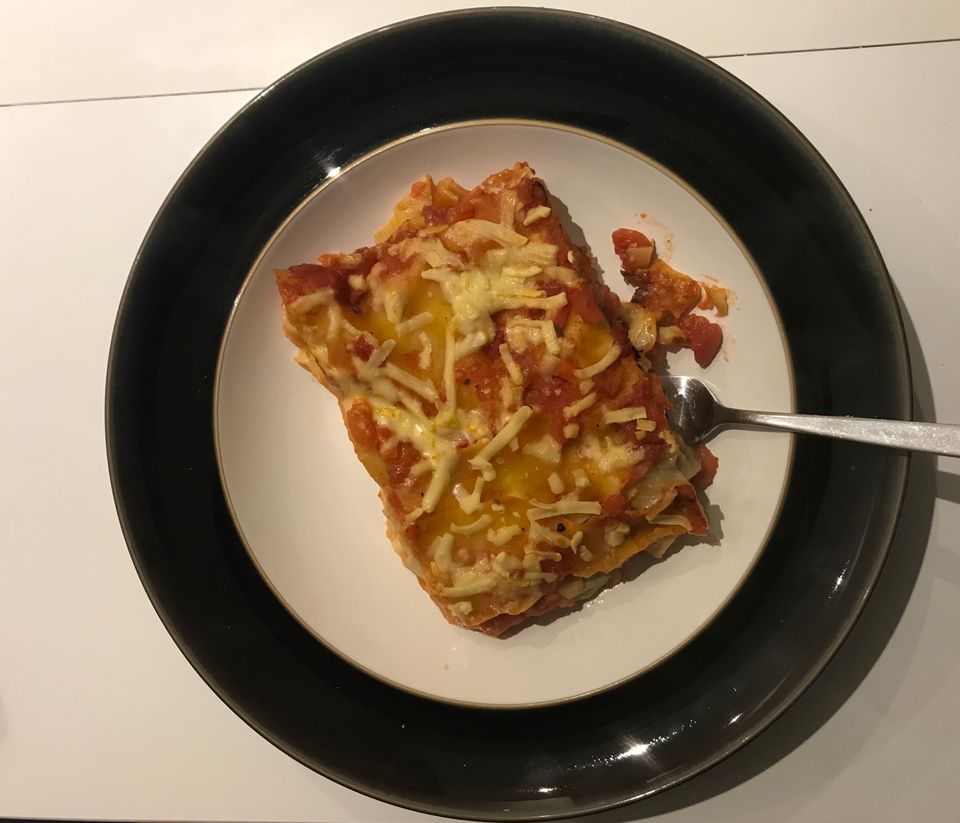 PKU lasagne sheets have returned to my cupboard after a long absence. I hadn't used them for many years because making a lasagne is a bit of a faff! Plus, we'd have to make two; a PKU lasagne and a non-PKU lasagne. This need to double up on meals is a common problem for people with PKU.
A bit of experimentation in our kitchen led to a 2-in-1 lasagne. A single dish with one half PKU lasagne and the other non-PKU lasagne. The key is to not mix up your pastas. The PKU side is phe-free.
Cautionary note: I checked this recipe with the NSPKU who do not recommend it for children or pregnant woman because of the risk of possible overlap or should you forget which end has the PKU lasagne.
There are two options for the sauces in this recipe. You can either make your white and tomato sauces from scratch or you can go with ready-made PKU friendly options from the supermarket. The NSPKU Branded Exchange Free Foods is a great help with this, and with all PKU supermarket shopping.
2-in-1 PKU & non-PKU lasagne
The quantities given in this recipe fit an oven dish which is 20cm x 30cm. Makes four generous adult sized servings, 2 PKU and 2 non-PKU.
Ingredients
6 sheets of PKU lasagne, I use Nutricia Loprofin sheets
6 sheets of non-PKU lasagne
1 Tbsp oil
1/2 an onion
2 x 400g cans of jackfruit, make sure they are in brine not syrup
1 tsp paprika
1/4 cup PKU friendly bbq sauce
for the tomato sauce
1 Tbsp oil
250g Soffritto mix, a mix of PKU friendly vegetables. If you have never used soffritto mix, I recommend adding it to soups, stews and tomato sauces for extra flavour.
2 x 400g cans of chopped tomatoes
for the white sauce
25g butter
20g PKU flour Mix
125ml PKU milk
Method
Boil the PKU pasta sheets for seven minutes or few minutes less than their full cooking time. Then drain and lay out individually to avoid them sticking together while you make the rest of the dish. You may need to pre-boil the non-PKU lasagne sheets but some brands to not require this. Check out this post for more tips on cooking PKU pasta.
Either heat up the off the shelf tomato sauce or make it from scratch by heating the oil in a saucepan then adding the soffritto mix to defrost. Once the mix has defrosted it will start to fry gently and the celery and onions will become transparent. At this point, add in the canned tomatoes and bring to a simmer.
Start to heat another tablespoon of oil in a second saucepan. Dice the onion and add that to the saucepan to fry gently. Drain the jackfruit and roughly chop the fruit into smaller pieces. Add this it to the onion along with the paprika. Turn the heat up and fry the onion and jackfruit over a medium heat for 5 minutes and then add the bbq sauce. Mix well and cook for another 5 minutes or until the jackfruit becomes soft and starts to fall apart. You may need to add a little water if the sauce starts sticking to the pan while it cooks.
In a third saucepan (I did say this was a faff but it is worth it!), either heat the off-the shelf white sauce or make it from scratch. If making from scratch, melt the butter over a low heat then gradually add the Loprofin Mix, stirring constantly to make a smooth paste. Remove from the heat and gradually add the Sno-Pro. Bring to the boil and cook for a further 2-3 minutes. Keep a close eye and stir frequently as this will thicken suddenly.
With your pasts sheet and jackfruit cooked, and your sauces heated, it is time to preheat your oven to 180°C fan. Now for the assembly. Place a thin layer of tomato sauce in the bottom of an oven dish. Then fit a single layer of PKU lasagne on one side, and non-PKU lasagne on the other. You may wish to mark which side is which by putting a dollop of sauce on the side of the dish. See photo below for reference.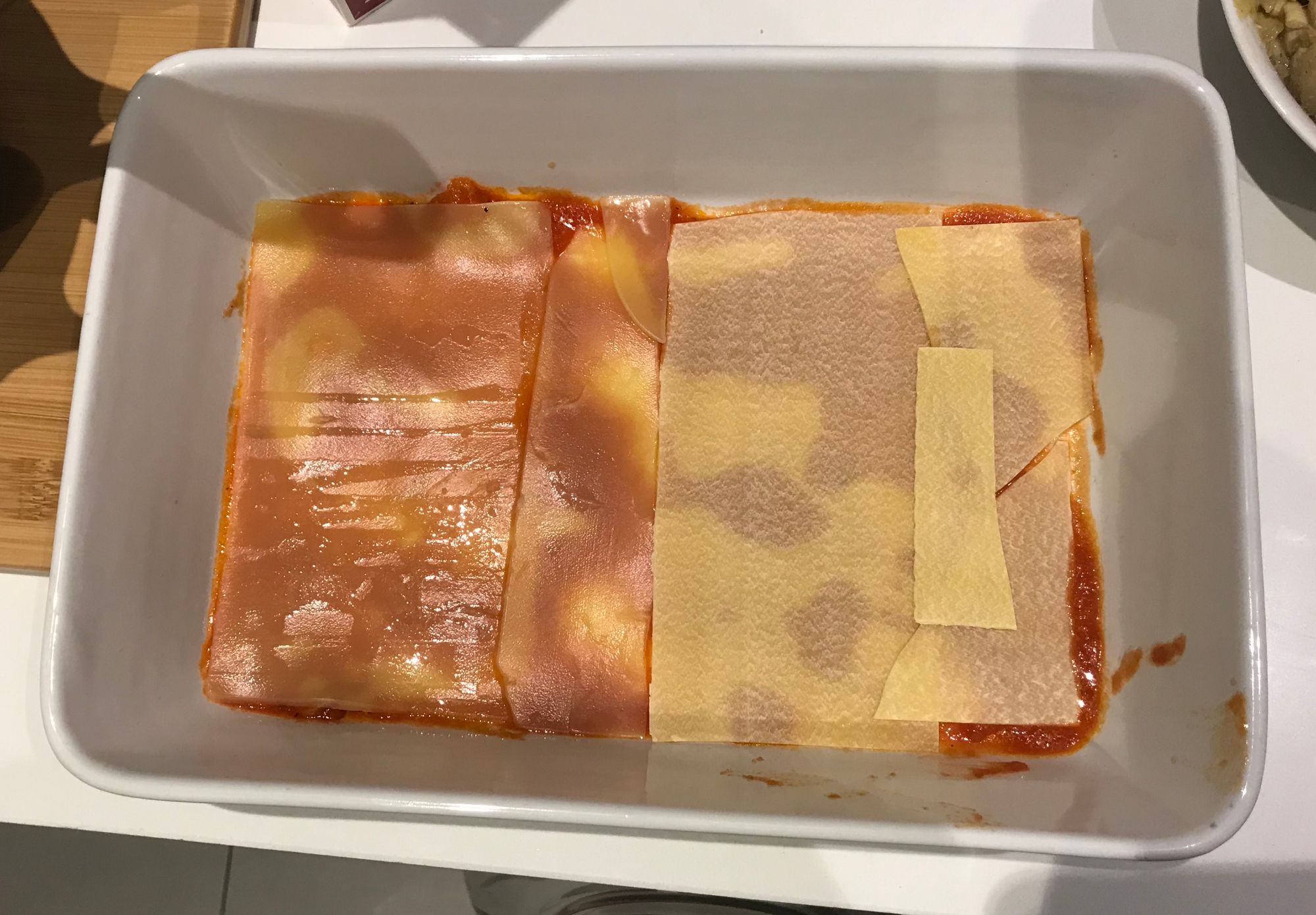 6. Next, spread half of the cooked jackfruit carefully on to the pasta followed by a third of the tomato sauce and then a third of the white sauce. It will look something like this: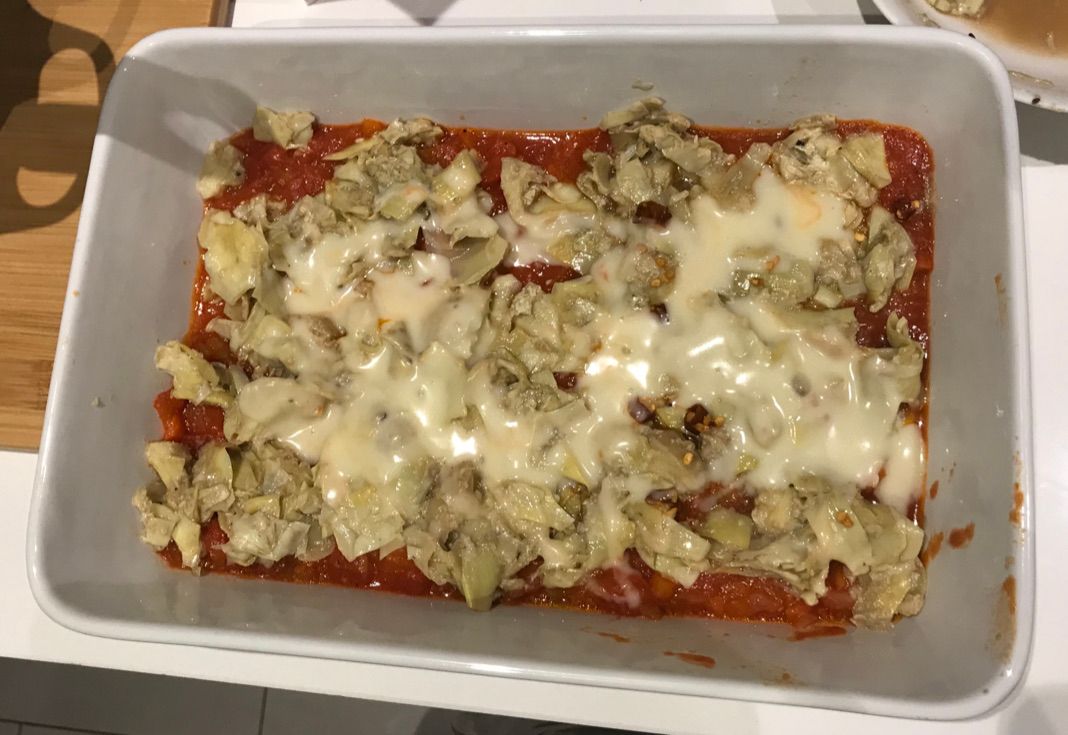 7. Cover with another layer of lasagne sheets, taking care to keep a separation down the middle and the different pastas on their correct side. Spread the rest of the jackfruit onto this lasagne and cover with another third of the tomato and white sauces. Add your final layer of lasagne, followed by the last of the tomato and white sauces. At this point, I mark the PKU side with excess pasta.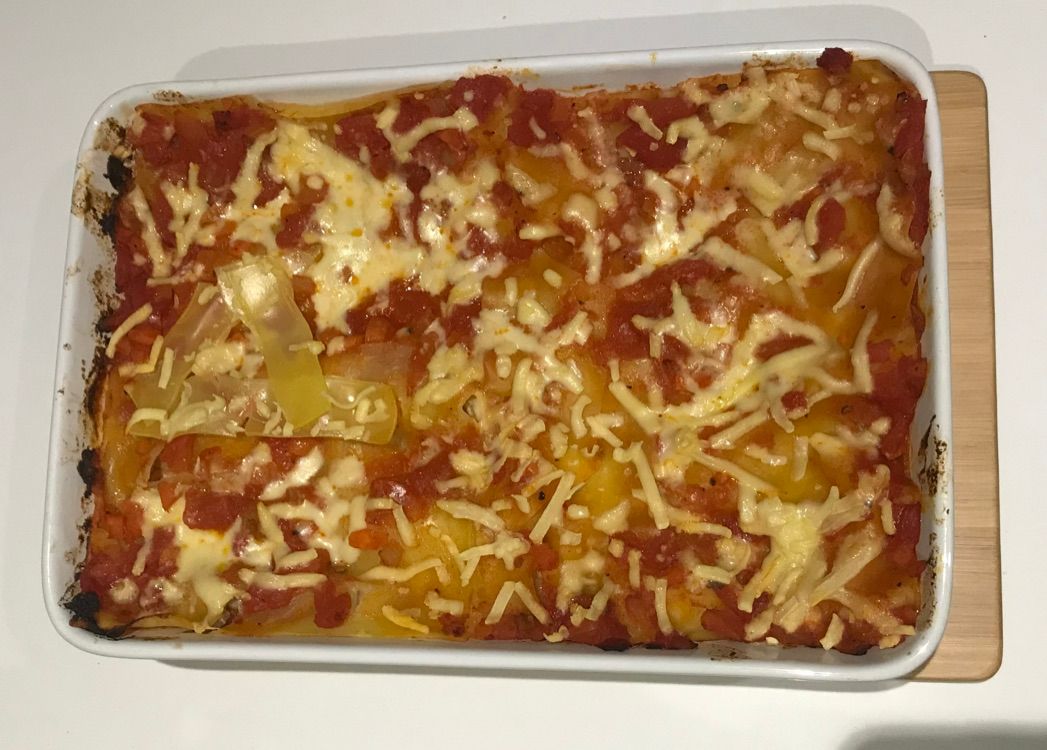 8. Finally, sprinkle with PKU friendly cheese and bake for 40-45 minutes. Bon appetit! Any leftovers will sit happily in the fridge for a day in a sealed container.