Review: five Sphere flavours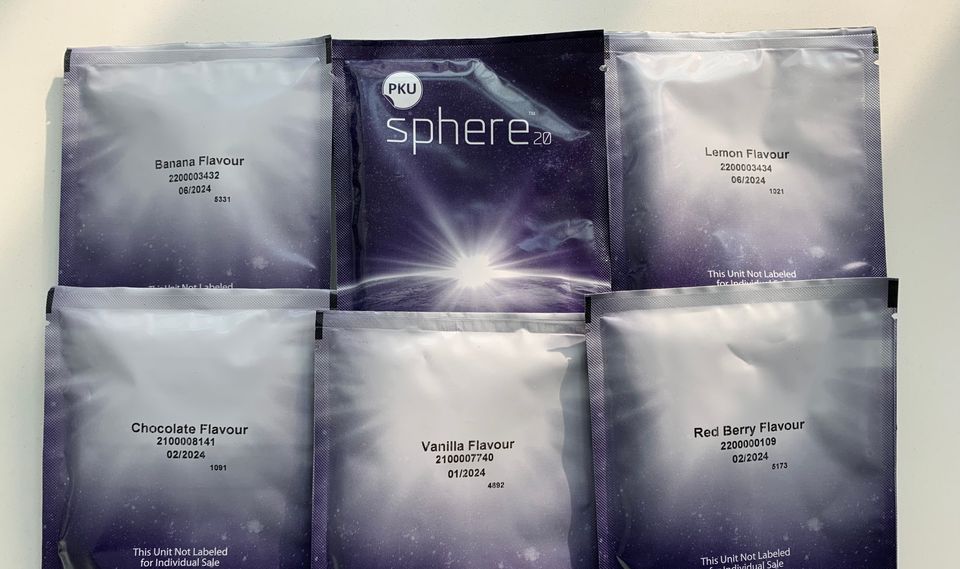 Vitaflo Sphere have two new, and frankly delicious, flavours in their supplement range. I tried all five flavours in one day and took notes for you. It is worth noting that I found Sphere to be more filling than other, non-GMP, supplements; so I did reduce my meals and snacks by the end of the day.
What is GMP
Sphere was one of the first GMP products for PKU. You can find out more about GMP products here, or check out my earlier trial of Sphere vs my phe levels here.
Red berry Sphere
Straight out of the packet, it smells like Eton Mess (an English dessert of raspberry, meringue, and cream). Once this supplement is mixed with water, it smells and tastes like raspberry milkshake powder. So if you are mixing your supplement with one to mask the flavour, perhaps this might work for you. I had this flavour with breakfast.
Lemon Sphere (new)
I swear it smelt like sherbet lemon with a hint of vanilla immediately upon opening the packet. Definitely an uplifting citrus smell and flavour once mixed. Almost juicy and very nice change from overly sweet flavours. Would switch to this myself. Delicious. I had this flavour at lunch, and wanted more.
Banana Sphere (new)
Smells like those retro banana foam sweets which haunted pick'n'mix sweet aisles when I was a kid. I made the mistake of mixing this with slightly warm water, which is often a killer for PKU supplements. But it was still delicious, with a flavour like banana milk. I had a slight problem with the mixing this one fully, but that could have been the impatience of not having much time for my mid-afternoon snack.
Vanilla Sphere
Basically, what it says on the tin, this was an innocuous vanilla-flavoured drink. The slight chalky undertone, which is a feature of all GMP drinks, is fairly noticeable here. That being said, this is a fairly unexciting and inoffensive, neutral drink. As those with PKU know, that is high praise for a supplement. Taken after a spicy dinner.
Chocolate Sphere
I took this at bedtime but, don't be fooled, this isn't a rich dark chocolate drink. Rather, it tastes like a vanilla milk drink with a hint of chocolate. Some people think this flavour is more vanilla than chocolate. Either way, it has been my staple Sphere drink for a few years. Trying it against the other flavours today was useful. I find it hard to provide an accurate description as it is now so familiar. However, it is no longer my favourite Sphere. Time for a Change.
Try new things, even if you don't switch
And this is another reason to try new things. Flavours change over the years, as do our tastebuds. Make a point to ask for new trial packs, or seek out the tasting stands at a PKU presentation day or conference. Whether your supplements are working for you or not, there is usually something new to explore which might just surprise you.
See you at conference
I hope this was useful for you, and please say hullo if you are at the 2022 NSPKU conference. It would be great to meet some readers and find out more about what you would like to see on here.
Plus, if you bring your copy of Living with PKU, I'd be thrilled to sign it.