PKU friendly recipes: carrot soup, and chewy ginger cookies
I love it when someone with PKU can pick up a recipe from the weekend newspaper and just give it a go. This week I tried out two new recipes, a warming carrot soup and delicious chewy cookies - we all need a treat right now.
The soup recipe ready for lunch in less than 40 minutes yesterday, most of that time it was simmering on the stove. I whipped up the cookies as the snow fell at the weekend, from start to devouring in less than an hour. If you are a PKU batch cooker, then these recipes are easily scaled to fill the freezer or cookie jar this weekend.
Phe free Curried carrot soup
From Michael Caines via The Guardian
There are a few more PKU friendly soups in this article to try. The first recipe was exchange free and I had a surplus of carrots. The recipe itself has not been altered from the website, I have rearranged it and added notes in brackets.
Ingredients
150g chopped onions, about 1 large onion
2 cloves of garlic, crushed, or 2tsp from a jar of crushed garlic (because I'm lazy).
500g peeled and chopped carrots, though I didn't peel them (because I'm lazy).
150g butter. I used a third of that, 50g, and the recipe seemed fine.
1tsp cumin seeds
1tsp curry powder
300ml chicken stock, use a PKU friendly one from the NSPKU booklets.
500ml water
1 bouquet garni. This is not a cupboard staple for me so I threw in 3 bay leaves which seemed to work (and I'm lazy).
Coriander leaves to garnish.
Method
Melt butter in a saucepan then add the onions, garlic and carrots. Cook on a heat low enough that the onions do not colour. (so over a low-medium heat) for five minutes.
Meanwhile, add the cumin seeds to a dry pan and toast (this only takes a minute or two on a medium heat).
Add the cumin seeds and curry powder to the carrots and cook for two minutes. Then add the stock, water and bouquet garni (or bay leaves). Top tip: count in your bay leaves, then you know how many to remove before blitzing.
Bring to the boil, add a little salt and reduce the heat slightly to a simmer for 30 minutes.
Blend the soup (don't forget to remove the bouquet garni or bayleaves first). Check to see if it needs salt or pepper. Reheat if needed and serve.
Low Phe chewy ginger, orange and dark chocolate cookies
From Ruby Tandoh via The Guardian
If you use PKU flour and milk substitute then the protein in this recipe comes solely from the chocolate. If you have PKU chocolate, vitabite, then you can make these protein free.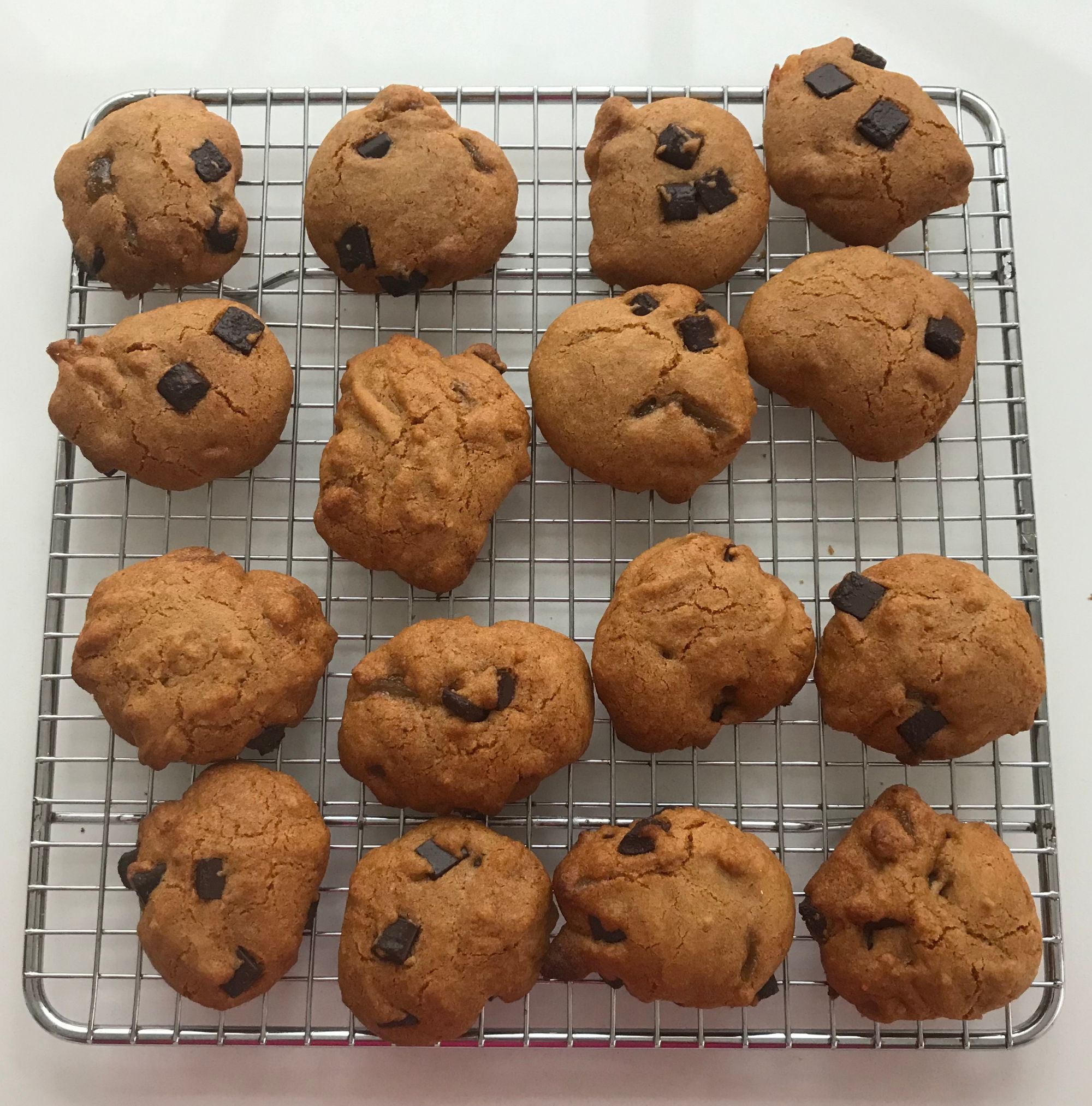 I used dark chocolate chunks and found that 100g was quite a lot for this recipe. Also, 100g dark chocolate chunks = 9g of protein. If you get the recommended 24 cookies out of the mix then each cookie is 0.4Phe, so you should count two cookies as 1 Phe.
I chose to halve the amount of chocolate chunks to 50g. That meant each cookie was 0.2 Phe. You can have two cookies for half an exchange.
They were easy and tasty so I plan to try them again with raisins for a completely free cookie. I also tried to make these a healthier cookies by reducing the sugar and oil. The full amounts were slightly horrifying when I weighed them out. My reduced amounts worked well, and I have listed these below. If you want the full unadulterated experience, the original recipe is above.
Ingredients
50g golden syrup
75g light brown soft sugar or 40g dark brown soft sugar
60ml almond or corn oil. I just used vegetable oil from the cupboard (becuase I'm lazy).
1 tsp vanilla extract
60ml PKU friendly milk or milk substitute
210g PKU friendly flour
¼ tsp baking soda
¼ tsp salt
100g candied ginger, chopped into small chunks
50g dark chocolate chunks or vita bite
Zest of 1 orange (I didn't have an orange handy so skipped the zest).
Method
This cookie dough will be wetter than a normal dough and will spread on the trays but should make a chewy cookie.
Preheat the oven to 180C/350F/gas mark 4 and line a couple of large baking trays with baking parchment or a silicone baking sheet.
Blend the golden syrup, sugar, oil, vanilla extract and milk until smooth.
In a separate large bowl, mix the flour with the baking soda and salt, then stir in the wet ingredients until just combined.
Add in the candied ginger, chocolate and orange zest.
Dollop teaspoons of the batter on to the prepared baking trays, spacing well apart
Bake in the preheated oven (in batches, if necessary) for 15-17 minutes, until the cookies' edges are golden brown and the centres are puffy.
Leave to cool for 10 minutes or so before moving onto a wire rack. They'll set harder as they cool, so don't worry if they're soft just after baking.
Please let me know if you try them, I'd like to know if the recipe alterations worked for you.