PKU 'Fish' fingers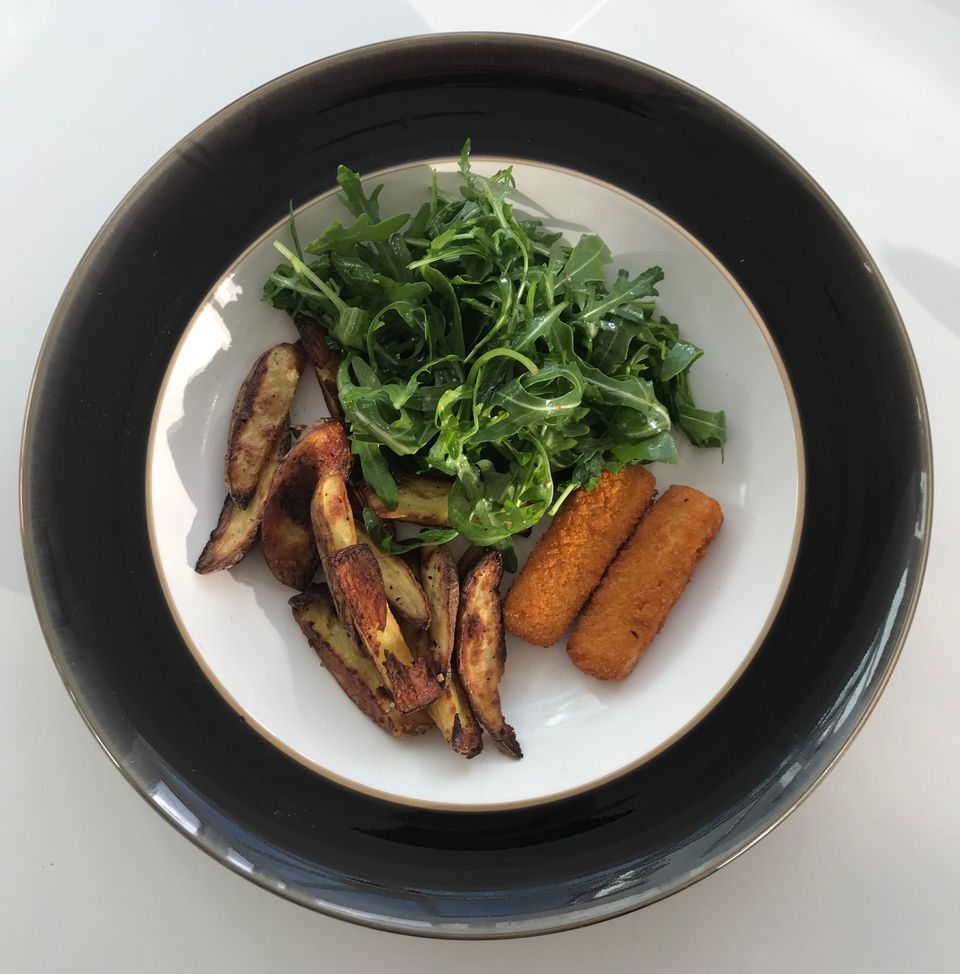 My thanks to the NSPKU for putting me onto this new product: Quorn Vegan Fishless Fingers. Do note that, while they are under the Quorn (TM) brand, this is a new formulation which is friendlier to those on a PKU restricted diet.
Exception to the Quorn rule.
NSPKU advise that Quorn products are on the 'Red, Forbidden list.' These are a sole exception due to their new formulation based on rice rather than the usual high protein mycoprotein formula.
Do not assume that you can start to have all Quorn products, most are still too high in protein for PKU.
First ever 'fish' finger supper.
When I asked my friends for their recommendations for my first 'fish' finger supper, the reply was 'I haven't had those since I was 10.'
There is no reason for fish fingers to be a child only meal, we face too many food restrictions for that nonsense.
The 'fish' fingers cook from frozen and take 10 minutes under the grill or 15 minutes the oven. I found the oven was ideal as it meant I could make chips at the same time to go with them.
At 2.6g protein for 3 fish-fingers, it does take half of my daily protein. This meant I needed something Phe-free and slightly more 'adult' to serve with them. If you have a fennel in the fridge which needs to be used then there is a recipe for a Phe-free coleslaw below. Alternately, as above, you could serve with salad leaves drizzled with a bit of oil & seasoning.
Sweet potato wedges were an obvious substitution for fries. I follow the Guardian recipe for Fenugreek-roasted Sweet Potato wedges though I don't always use the spice. It is replicated below with the fenugreek as optional. Or you can substitute paprika for smokier fries.
Sweet potato wedges & 'fish' fingers
1 large or 2 small sweet potatoes, cut into wedges
1/2 tsp ground fenugreek (Optional. Leave out or switch with another spice.)
1 tbsp olive oil
Salt & pepper to taste.
Pop the wedges in a bowl, add the spice (if using), oil, salt & pepper. Mix then spread out in a roasting tin lined with baking parchment.
Place in an oven preheated to 180C/350F/gas mark 4 and roast for 10 minutes.
Make the fennel coleslaw, below, so flavours can meld before serving.
After 10 minute in the oven, mix the wedges round. If you have room to create a space in the middle for the 'fish' fingers, do that and then put them back into the oven for 8 minutes. If you don't have room, put the fingers on a second tray.
After 8 minutes, turn the fish fingers over and return to the oven for another 7 minutes. The wedges and 'fish' fingers should be soft and golden. Serve immediately with the salad or coleslaw.
Fennel coleslaw
Adapted from a previously posted recipe, without the mushrooms. Makes 2-4 portions depending on the size of fennel bulb. This ended up making quite a lot, but it was even better as a leftover the next day.
1 bulb of fennel
PKU friendly Parmesan, grated. I use [Violife Prosociano Wedge] available in most supermarkets.
1-2 tbsp Olive oil, extra virgin is ideal but use what you have.
Salt and pepper to taste
Juice of half a freshly squeezed lemon, or 1tbsp from a bottle.
Cut off the top stalks and rough bottom of the fennel bulb. Wash and dry the bulb. (If any of the outside is bruised or browned, gently cut it off without hacking through the bulb.) Cut the bulb in half, then shave or thinly slice the fennel.
Put the fennel in a bowl and dribble with the olive oil. Sprinkle with salt and pepper. Add the grated cheese and lemon juice then mix well. Ideally let it sit before serving.
Result!
This meal was easy & delicious and the fishless fingers are a good addition to the PKU food cupboard. Hope you can enjoy them too.
(Please note, I didn't have sweet potatoes for this photo so swapped out 1 'fish' finger' to leave Phe for the potato wedges.)