Four quick 'school-night' dinners
We all have those days when we have been hard at work, school, or play and have completely forgotten about getting dinner on the table. Here are a few quick, easy dinners to satisfy the taste buds and the PKU diet.
Three of the recipes are Phe-free. The last has 2.5g Phe per adult portion with option to add more if needed.
Roast courgette & aubergine.
Phe-free with PKU substitutions as below
This one was a find in the Guardian several years ago which has been adapted for PKU. The original recipe used only courgette, but I've since tried it with mushrooms and aubergines. The mushrooms get a little wet which is why they haven't been included here.
Scaled for two adult portions as a main meal. This goes from fridge to plate in under an hour, though most of that is oven time when you can be doing other things.
1 aubergine
2 large or 4 medium courgettes
4 Tbsp Olives, stoned & chopped
6 Tbsp grated PKU cheese. I use [Violife Prosociano Wedge] available in most supermarkets.
2 Tbsp chopped Rosemary (or 1/2 tsp dried)
4 Tbsp PKU bread crumbs
Salt & black Pepper
Olive oil
Set Oven to 180C.
Mix the Olives, Rosemary, cheese, and breadcrumbs. Season with salt and pepper.
Cut the courgettes and aubergine in half lengthways and score the cut sides deeply, but taking care not to go through.
Place courgettes snugly, cut side up in small roasting tin then rub with a little olive oil on the cut surface.
Cover with prepared olive & cheese mix, pressing down but not compacting the mix. Trickle a little more olive oil.
Bake for 45 mins to an hour, until sizzling. Serve with a side salad if you feel the need though it can be a big meal on its own. Goes well with mayonnaise/salad cream, bbq sauce, tomato sauce, chilli sauce…
Easy fennel & pasta
Phe-free with PKU substitutions as below
Scaled for two adult portions. Fridge to plate in about 30 minutes.1 Fennel bulb
1/2 Onion, diced
1-2 cloves garlic
160g PKU pasta, (80g per person if you are cooking for non PKU people too)
1/4 cup wine
1 Tbsp lemon juice
Parsley
Salt & Pepper to taste
Get a pot of water on the stove for your pasta. I went into cooking PKU pasta on a previous blog if you need tips.
Cut off the top stalks and rough bottom of the fennel bulb. Wash and dry the bulb. (If any of the outside is bruised or browned, gently cut it off without hacking through the bulb.) Cut the bulb in half, then shave or thinly slice the fennel.
Sweat fennel, onion, and garlic in pot with lid on for about 10 mins, stirring often.
When your pasta has 5 mins to left go, add wine to fennel mix and turn up the heat to boil off the alcohol.
When the pasta is cooked, drain it. Then add lemon, salt and pepper to fennel mix and serve with pasta.
Quick roasted broccoli & pasta
I posted this as an 'add on' recipe several years ago, but we still have it regularly. The broccoli is 1 Phe for 60g. A 300g head of broccoli for two people results in 2.5 phe per portion. The pine kernels are an optional extra if you need to boost Phe to make up more exchanges.
This recipe is for two people and is ready from fridge to plate in about 30 minutes. Give it a go, it is the second recipe here: https://pigpen.page/pku-friendly-recipes-to-try-in-october/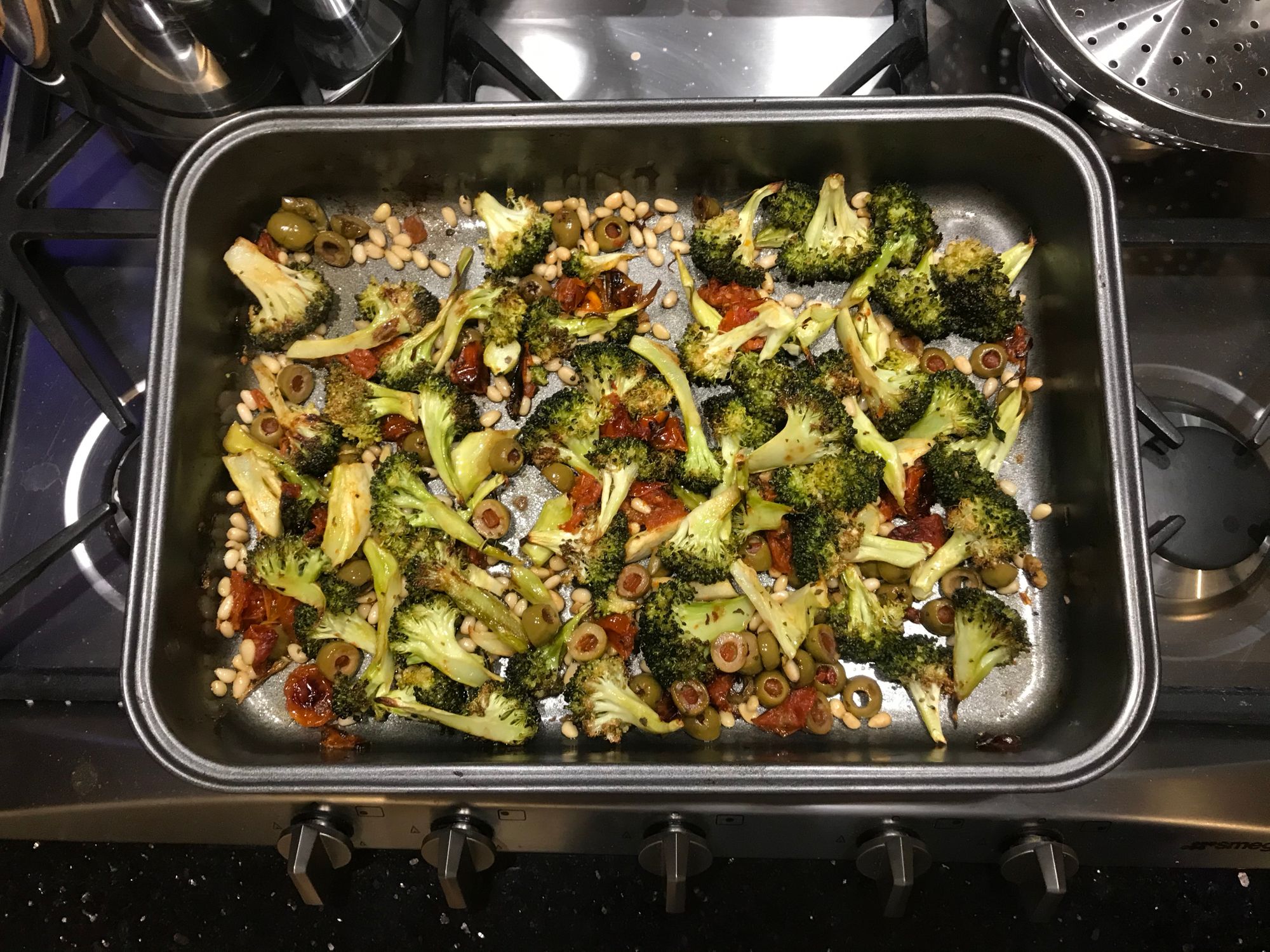 Two-in-one Lasagne
Another one which I posted on the blog, this one takes more work. The reward is four huge adult sized portions which can feed both PKU and non-PKU-ers. I'd suggest trying it out on a weekend for the first time as it can be fiddly. Once you are used to it, it can be a handy mid-week dinner. We make it early in the week which gives us a full meal leftovers for a busy night of Zooming. https://pigpen.page/pku-and-non-pku-lasagne-in-the-same-dish/
Fish finger supper
In the next few weeks, I'll be posting about my first 'fishless' finger supper. This uses a new PKU friendly product now available in the supermarket. It turns out to be an easy, one-oven-tray dinner which is ready from fridge to plate in 40 minutes.