PKU and heatwave friendly recipes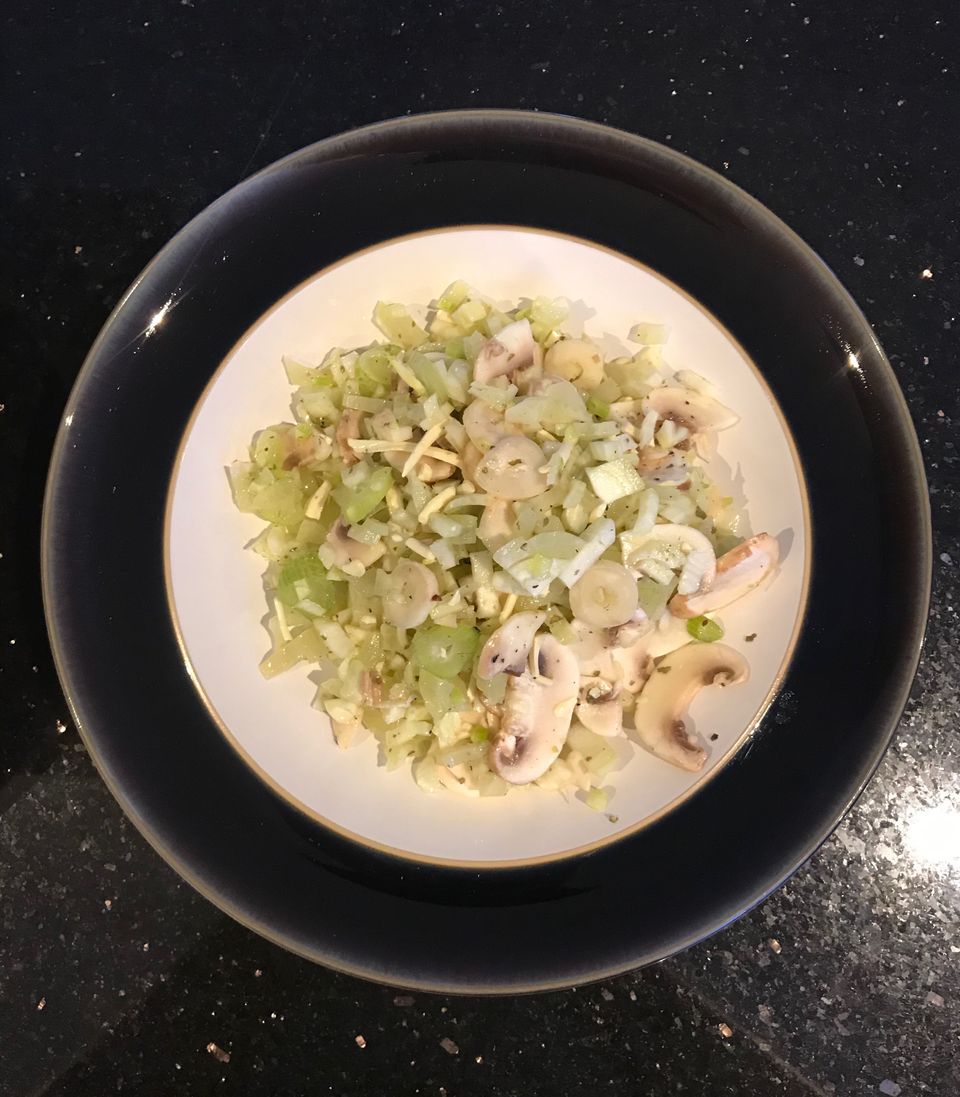 A glorious bank holiday weekend is forecast across the UK, and London is sweltering. For five days the temperatures are expected to hover around 30 celcius, so it is a good time to revisit my handy 'no-cook' recipes. There are three on this page, ranging from phe-free to 2phe per portion.
It is in this kind of weather that salads come to the fore, helped along by the often overlooked fennel. Our favourite salad so far is an easy, phe-free number which I adapted from a blog:
Shaved fennel and PKU cheese salad
Serves two as a main or four people as a side salad. This is phe-free when made with a phe-free cheese. If you need to use some protein, measure in a cheese with protein or add pine nuts (7g of pine nuts = 1phe).
Ingredients
1 bulb of fennel
10 or so clean, fresh mushrooms
Small amount of phe-free cheese, either pre-grated or from a block. If you are using a cheese with protein don't forget to measure the amount so you can calculate the exchanges. I used the Ocado grated cheddar alternative to keep this salad phe-free and easy.
1 tablespoon olive oil
Salt and pepper to taste
Juice of half a freshly squeezed lemon. For those of us without a fresh lemon on standby this is about 1 tablespoon of lemon juice.
Method
Cut off the top stalks and rough bottom of the fennel bulb. Reserve any feathery fronds at the end of the stalks. Wash and dry the bulb. If any of the outside is bruised or browned, gently cut it off without hacking through the bulb.
Cut the bulb in half, and shave the fennel with a mandolin or thinly slice with a good knife. Put this fennel into a salad bowl.
Shave or thinly slice the clean, dry mushroom caps, and add them to the fennel.
Add in the lemon juice, olive oil and add salt and pepper. Add in your cheese, if using a block, grate it or use a vegetable peeler to imitate Parmesan.
Mix together and either leave for an hour at room temperature or serve straight away.
Optional: For garnish, sprinkle with the clean, dried feathery fennel fronds, or parsley or with measured pine nuts for extra exchanges. Serve with PKU-friendly bread to soak up the dressing.
Shaved fennel salad with orange-coriander dressing
The next suggestion is a bit more involved but is still easy. It will also make an interesting side salad when hosting, or to take along to a bbq.
You need to start this salad one hour before serving. It is one phe per main portion, or you can adjust to make it phe free. Serves two as a main or four people as a side salad.
Ingredients
2 medium sized fennel bulbs
Juice of one orange, or 2tbsp orange juice
1/2 a lemon or, for those of us without a fresh lemon on standby, 1 tablespoon of lemon juice.
salt to taste
75g rocket leaves. This is 2phe worth of rocket but if you can use other salad leaves if you want a phe-free salad.
For the dressing
2 medium oranges
1/2 medium lemon, or 1tbsp lemon juice
4 g coriander seeds
2 g black pepper seeds
8 leaves basil
salt to taste
30 ml extra virgin olive oil
Method
Wash the fennel and cut it in half from bottom to top. Shave the fennel with a mandolin or thinly slice with a good knife. Place it in a container with a lid.
Mix the orange and lemon juices over the shaved fennel and season with the salt. Marinate the ingredients for 1-hour in the fridge.
To make the dressing, peel the orange and divide into segments. With a knife, remove the skin of each orange segment to create small slices of orange with only the fruit. Then cut each segment into 3-4 pieces and add to a small bowl. Squeeze in one tablespoon of lemon juice and season with a pinch of salt, cracked black pepper and cracked coriander seed. Add the olive oil. Finely chop the basil and add to the bowl. Mix well and set aside.
When the fennel is marinated, strain and add to a salad bowl with rocket. Add the orange dressing and mix. Serve in the salad bowl.
Chilled cucumber and avocado smoothie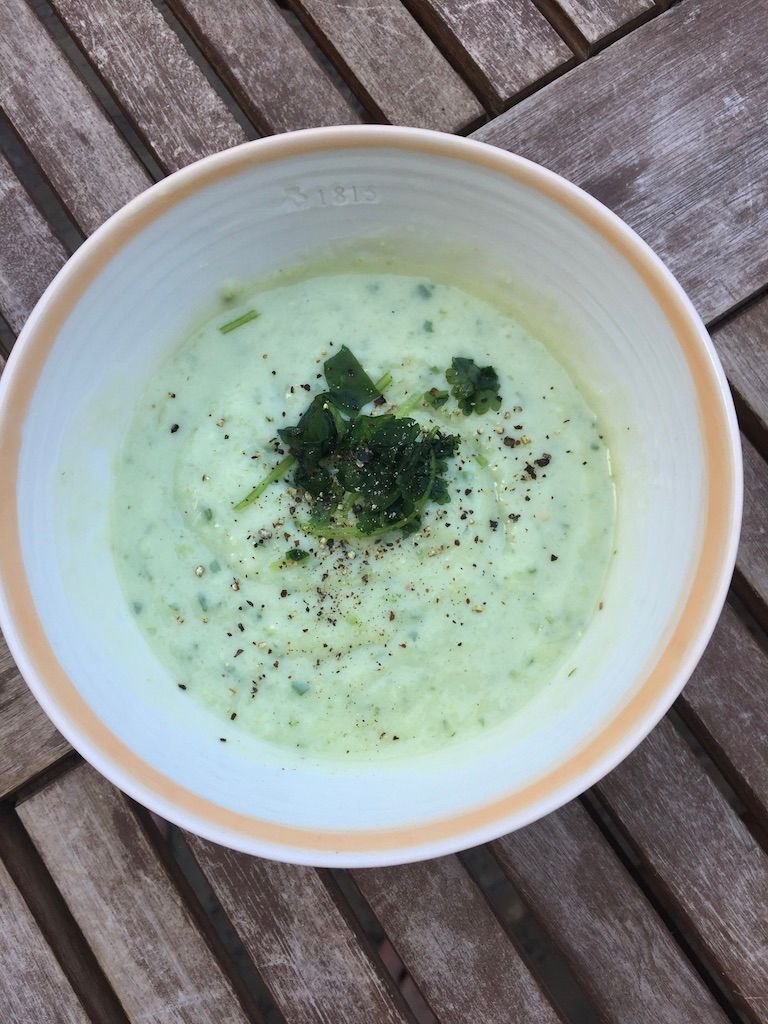 Lastly, something a bit different. I came across this as a recipe for a 'no-cook' soup but in both temperature and texture it is best described as a smoothie.
It will not be phe-free so be sure to check the amount of protein in the sour cream, yoghurt or creme fraiche. I use Oatly creme fraiche (giving roughly 2phe per portion) or Koko plain yoghurt to reduce protein to 0.5 per portion. It will serve 4 as a starter or two as a lunch for those days when it is just too hot to eat.
Ingredients
1 cucumber, peeled. (You can go further and de-seed it, but I've never bothered.)
1 ripe avocado, pitted, peeled.
2 spring onions (also called green onions), chopped
2 tablespoon freshly squeezed lime juice
1 cup sour cream
1 cup cold water
Sea salt and freshly ground black pepper
2 tablespoons chopped fresh coriander leaves
Method
In a blender or food processor, combine the cucumber, avocados, spring onions, lime juice, sour cream, and water. Process until smooth. Season to taste with salt and pepper. If the soup is too thick for your liking, thin it with water.
Stir in the coriander and serve immediately, or cover and let chill.
I hope you enjoy these recipes, please let me know what you think of them.